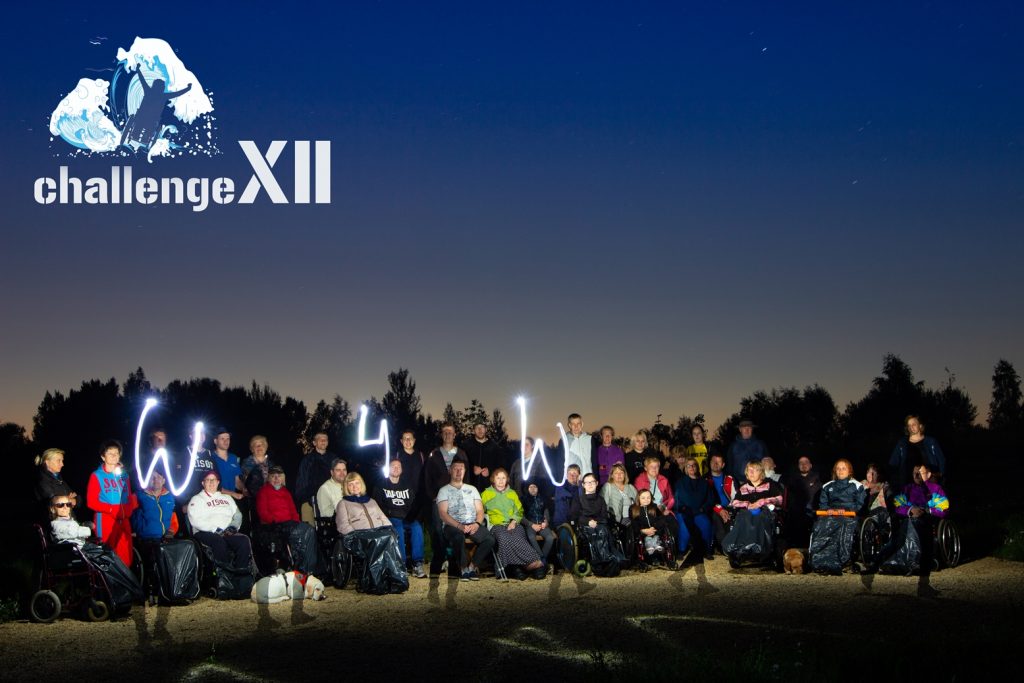 Every summer Wings for Wheels ministry hosts summer camp(s). In the course of the camp (usually it lasts for a week) the participants are offered an opportunity to hear lectures on interesting and current topics, to participate in creative workshops, sports games, discussions, etc. They can test their skills in various activities and acquire new skills. One of the camp days is planned for an extreme adventure, held in secret till the last moment. The participants have access to physiotherapy – exercises, massage, and consultations. All activities are planned with a purpose to motivate the participants to take a step outside their everyday comfort zone, yet everything is under control, and all required safety precautions are observed.
Goal and activities of "Challenge" camps
To offer opportunities to people with disability by the help of creative and physical activities in order for them to find and enhance the limits of their skills and possibilities, and to allow them to acknowledge and build their self-worth.
To promote the integration of people with disability within the society by motivating them to become active members of society.
To promote the meaning of healthy lifestyle and individually appropriate physical activities.
To learn Christian foundational values through various activities.
Application
The camps are currently meant mostly for people with physical limitations, within the age range of 18 – 60. Exceptions are considered individually. We try to find a suitable assistant to those people who are in need of help in everyday care and who cannot find their own assistant for the duration of this week. For more detailed information regarding the procedure of application write to e-mail: ailita_kuka at inbox.lv
History of the Camps
"CHALLENGE"
The activities of Wings for Wheels began with a two-day summer camp in the Christian recreational centre at "Norkalni" in August, 2007. It was the first step of organization Youth with a Mission towards ministry to people with physical limitations, and this camp gave us an opportunity to test our skills in a new area and to gain a clearer view of aspects that need to be considered when hosting camps for people with physical limitations. The beginning was not easy, but the participants who later became advisors for our ministry admitted that our work is truly necessary and urged us to continue.
From 2008 to 2010 "Challenge" camps took place in Talsi Christian School, which mostly satisfied the needs of our target audience. However, it was too small for such a great number of participants as we wished to have, and there were other obstacles, therefore we stepped into a new 'level of challenge'. From 2011 to 2014 we organized "Challenge" camps in Raiskums Special Boarding School. It was more appropriate in terms of space and living conditions, yet hosting camps required at least four times more in the area of finances. Thank God, He did not consider it an obstacle, so we did not as well.
New changes came in 2015, when due to unforeseen circumstances we urgently had to search for a new place for our camp, and we found it in Spare Special Boarding School in the Amata area. We were forced to reduce the number of participants again and to overcome a few inconveniences in terms of housing comforts, yet we saw once more that the true prerequisite for God's miracles is open hearts on part of people, and not comfortable living conditions.
"MORNING DEW"
For two years – in 2014 and 2015 – we have had two more camps, which we named "Morning Dew". Unlike "Challenge", which is open both to Christians and to those who do not know Jesus Christ yet, "Morning Dew" is like a boot camp for Christians only. A much smaller number of participants take part in it, and the camp lasts for four days. The schedule is planned with a purpose to deepen the knowledge of participants and to motivate them to build closer relationship with God.